On a cold and rainy day like today, I crave warm, simple dishes. I also try to keep it healthy when I can :-) Today, I decided to make a simple brown rice pasta and steamed broccoli bowl. I also wanted to keep my sauce simple so I only used extra virgin olive oil and shredded cheese with black pepper and dried basil mixed in. Let's take a look at the ingredients: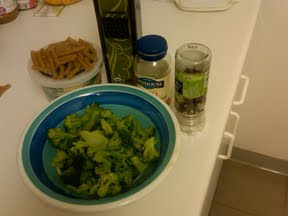 Brown rice pasta Steamed broccoli florets EVOO Shredded cheese Black pepper and basil for seasoning Preparation: Cook the pasta as instructed. Place cooked pasta in a bowl with the steamed broccoli florets. Make sauce by mixing a tablespoon of EVOO with a tablespoon of shredded cheese. Add desired amount of black pepper and basil. Toss pasta and broccoli with sauce. Enjoy!
Here's how this meal shapes up: Whole grain: brown rice pasta Produce: broccoli florets Protein: shredded cheese Plant fat: EVOO Sass: black pepper, basil Question of the day: what is your favorite comfort food?